Inline Filters Replacement Elements and Bowls
We supply various sizes and specification of inline filters replacement elements and bowls. We also supply our Tank outlet kit the AFV-1000 Filter valve set.
Filter Valve tank outlet kit AFV-1000 comprises of an isolation valve, 50 micron filter element, 1″ BSP male tank fitting adaptor. The outlet is 3/8″ BSP Female and this comes supplied with a 3/8″ BSP Male to 10mm compression fitting as standard. They also come supplied c/w a roll of PTFE tape and a 10mm plastic bottle of Heldite for the tank connection.
The Inline Filters for heating oil we supply come in a range of sizes from 3/8″, 1/2″,3/4″ and 1″ in Aluminium bowl. Plastic bowl filters only available in 3/8″ and 1/2″.
With our metal and plastic bowl filters for heating oil there is a choice of paper of stainless steel filter elements are available for most filter bowl sizes.
We also supply an inline water trap filter, complete with a 3/8″ connection 100 micron stainless steel filter element and an water drain tap. See the spec here:- Inline Water Trap Filter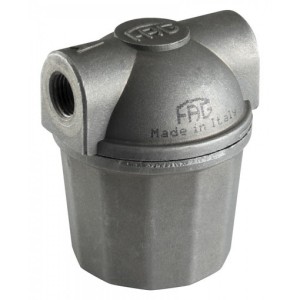 To see our complete range of in-line filters for heating oil please click here :- Filters for heating oil