Oil Storage Tank Contents Gauges
We supply Oil Storage Tank Contents gauges. We are the Manufacturer of the well known Atkinson Tankmaster Valve.
The Tankmaster is design for fitting to a steel or plastic oil storage tank, for use with heating oil central heating systems. It eliminates the need for a separate gate valve, level gauge, filter, fire valve and a number of pipe fittings. It is designed to comply to BS799 Part 2
The Tankmaster is the 4 in 1 Tank level gauge. It's main features include a sight gauge, integrated shut off valve, fire valve and disposable/replaceable filter element. It also comes with a left or right hand compression fitting for ease of installation. See the full spec here :- Tankmaster
We supply a range of spare and replacement parts for the Tankmaster, including replacement o-rings, hand wheels, filter bowls and filter elements. Please see our spares section here :- Tankmaster Spares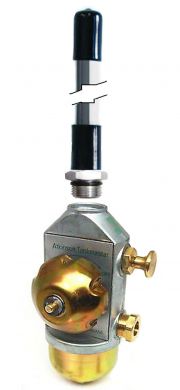 Also manufactured in our factory is the Push Button Sight Gauge. Our sight gauges are fitted with a self closing valve and are designed to comply with BS799 and OFTEC OFS-E103 and has been accepted by all major oil companies.
Push Button Sight Gauges
The Push Button sight Gauges includes, a top cap for protection from dust and insects. A top clip, to provide upper support for the sight tube, supplied with self tapping fixing screws. Clear PVC sight tube. Sight tube shield, rigid PVC (or Aluminium by request). Push button to indicate oil level. Tank union in 3 size choices 1/2″, 3/4″ or 1″. Also the gauge length can be ordered to suit.
See our wide range of Oil storage tank contents gauges, from push button sight gauges, float gauges, hydrostatic, electronic level indicators, drum gauges and the ever popular Tankmaster 4 in 1 gauge. As always all of our oil storage tank contents gauges here at Fueldump are at the best competitive prices in the uk.
To see our full range of contents gauges including float and hydrostatic gauges click here :- Oil Storage Tank Contents Gauges