Mechanical Flow Meters
The Mechanical flow meters we offer are Aqua Metro Volumetric oil meters, These are ideal for use with central heating burners, grain dryers, diesel engines and can be used for the regulation of burners and diesel injectors. commonly used to monitor the use of heating oil holiday homes, estate homes etc. particularly where a number are being supplied by one oil storage tank. They are very accurately calibrated with pointer indicator down to 1cm3 or 10cm3.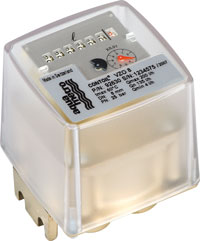 There are several versions of these meters.
VZo4 This meter will meter 1 to 50 ltrs an hour. The fitting size is 1/8″ BSP although we can supply a fitting kit that will enable fitting into 10mm compression fittings.
VZ08 This meter will meter 4 to 135 ltrs per hour. The Fitting size is 1/4″ BSP although again we can supply a fitting kit taking it from 1/4″ BSP to 10mm compression fittings.
VZ015 This meter is capable of metering 10 to 400 ltrs per hour. A pulse output can be fitted with this meter, please ask when purchasing. This meter has a fitting size of 3/4″
We also offer the Hz3 which is a meter best suited for oil fed aga's or cookers with no heating system to feed. This unit will measure between 0.18 to 12 ltrs an hour.
To see our Mechanical Oil Flow Meters please click here:-