Pressure Regulating Valves
We offer two types of pressure regulating valve. One adjustable type and one fixed pressure regulating valve.
Too large a head for your burner? Need to reduce/break the pressure created because the tank is too high up?
The cash Acme A31-S pressure regulating valve, is an adjustable valve and will accept an inlet pressure of up to 300 psi and reduce this to between 2 and 25 psi.
The inlet and outlet ports are 3/8″ to match 10mm oil heating pipework. It come complete with a gauge to assist with setting the valve to the correct output pressure. This valve can operate in temperatures up to 80 degrees celcius and is suitable for use with water, air and light heating oils.
To see the full spec for this valve please click here:-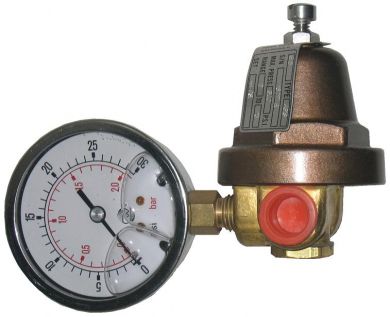 Adjustable Pressure Regulating Valve
The GOK pressure regulating valve is a fixed pressure regulating valve for AGAs.
GOK fixed pressure regulating valve, preset to 100mb outlet pressure. Suitable for use with all applicances that require the pressure to be set at 100mb, e.g. vapour type appliances such as AGAs. Comes complete with 10mm compression fittings to match your 10mm oil line.
For a full spec on the fixed regulating valve please click here:-
GOK Fixed Pressure Regulating Valve