Heating Oil Systems Installations –
When laying or replacing pipework for a new or existing oil heating system, consideration should always be made about the number of joints you will need in the pipework. Most new tanks these days are bunded and top off take. This means it's increasingly important to have air tight feed pipes.  This would also be the case if you have an underground tank. Joints can be made airtight with the use of copper pipe inserts.
Air Ingress Issues
Standard heating oil pipework is usually 3/8″ or 10mm copper pipe. Most joints are generally compression joints with nuts and olives. A good tight joint can be oil tight but not necessarily air tight.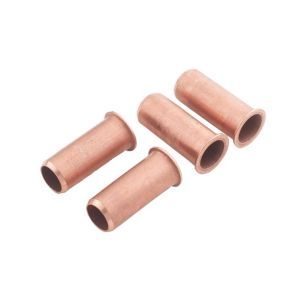 With increasing need for air tight joints these days, standard jointing methods are not good enough to stop air ingress.
The sort of problems you can experience with excess air in the system are numerous.
If you have a Tigerloop or deaerator in the system, too much air can cause these devices to lock out. Subsequently causing the boiler to starve of oil.
Where an oil lift pump is present, excess air going through the pump can cause it to be very noisy. It will rattle as the air passes through it. Due to most lift pumps being fitted internally this is not desired outcome.
If a heating oil tank has a top off take system installed this works by using the siphoning effect. This relies on a constant suction from the boiler. The feed line has to be fully primed with oil from the tank to the boiler. If the suction then pulls air in through the joints this will build up. Eventually causing the siphoning effect to loose its strength. The fuel will drop back down the line to the tank, the boiler will lock out and stop.
Copper Pipe Inserts

The 10mm copper pipe insert is designed to fit snugly into the internal diameter of standard 10mm. 10mm pipe has an 8mm internal diameter. This insert acts as a strengthening support so that when a joint is made via a compression fitting it can now be tightened with some force without the worry of crushing the pipe. The insert forms a seal between the inside diameter of the pipe and the compression fitting good enough to be airtight.
Recommended by Oftec (Oil Fired Technician association)
Many Oftec registered oil fired heating engineers fit these inserts as a standard when installing new systems. With many older oil heating systems in the country that may not have been updated or serviced recently if you have problems with air ingress issues ask your heating engineer if he is using copper pipe inserts.